Biography
Gemma Levine was born in London, in 1939. Her career as a photographer began in 1975. Since then, through three decades she has published 26 books of photographs and shown over 60 exhibitions worldwide.
Gemma is best known for her striking black and white photography. Since 1984 she has taken photographs of many major contemporary British people. These include politicians, sportsmen, actors, artists, writers, dancers and important business figures. Her subjects range from six Prime Ministers, to Royalty and to leading Theatre artists. She celebrated 25 years of her work at the National Portrait Gallery in 2001.
Her best seller "Go with the Flow" (published by Quartet Books in 2012) was based on her personal journey through cancer on the positive side.
In her book "Just One More" (published by Elliot & Thompson in April 2014) Gemma related her memoirs in the form of vignettes from her professional life, which were extracted from her diaries. Each story is accompanied by photographs, letters or poems. The book has three main sections. Henry Moore, Israel, and Famous Faces of the UK.
Gemma is a fellow of the Royal Society of Arts.
...Commending the fantastic work you do, even in times of adversity
The Prime Minister. Boris Johnson
Gemma has made an enormous contribution to society in many different areas through her professional work as a photographer and many charitable causes that she has been able to support as a result of her work. The combination of her incredible energy, zest for life and her profound skill behind the lens, has enabled her to capture many different people and topics and present them in a unique way
Professor Paul Ellis
Publications
2020. AQUA (foreword Professor Peter Mortimer)
2020. BLISSFUL ISOLATION
2017. LET'S TALK LYMPHOEDEMA (foreword HRH Princess Alexandra)
Published by Elliott and Thompson UK
2014. JUST ONE MORE..... MEMOIR (foreword Professor Paul Ellis)
Published by Elliott and Thompson UK
2012. GO WITH THE FLOW (foreword Professor Daniel Hochhauser)
Published by Quartet Books UK
2008. MAYFAIR (foreword The Duke of Westminster)
Published by Collins UK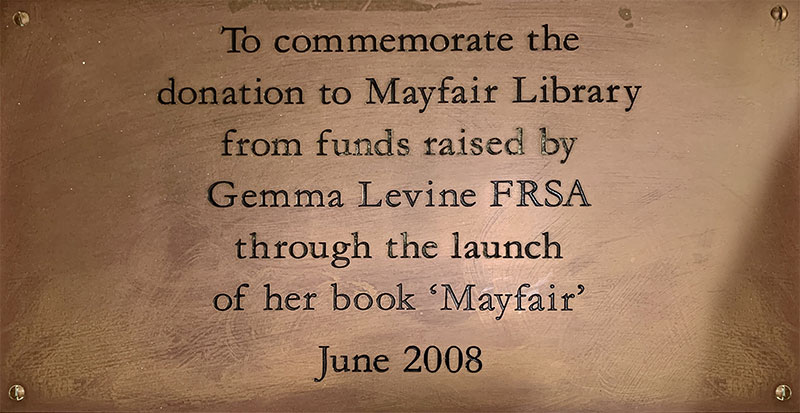 2004.CLARIDGE'S (foreword Sir David Frost)
Published by Collins.UK
1999. MY FAVOURITE HYMN (foreword Prince Michael of Kent)
Published by Robson Books UK
1998. MEMORIES (foreword Sir Jonathan Miller)
Published by Ebury Press UK
1995. PEOPLE OF THE 90s (foreword HRH The Princess of Wales)
Published by Harper Collins. UK
1990. FACES OF BRITISH THEATRE (foreword Sir Jonathan Miller)
Published by Prion. UK
1987. FACES OF THE 80's (foreword Margaret Thatcher - Prime Minister)
Published by Collins UK
1985. HENRY MOORE - An Illustrated Biography.
Published by Weidenfeld & Nicholson UK - Grove Press USA
1985. HENRY MOORE .WOOD SCULPTURE.
Published by Sidgwick & Jackson UK - Universe USA
1982. LIVING IN JERUSALEM
Published by Weyland Educational UK
1982. THE YOUNG INHERITORS (forward Yehuda Avner)
Published by Dial Press USA
1981. WE LIVE IN ISRAEL.
Published by Weyland Educational UK
1978. ISRAEL FACES AND PLACES (foreword Golda Meir)
Published by Weidenfeld& Nicholson UK - GP Putnam & sons USA
1978. LIVING WITH THE BIBLE. (foreword General Moshe Dayan)
Published by Weidenfeld & Nicholson UK - Morrow Books USA
1978. WITH HENRY MOORE
Published by Sidgwick & Jackson UK - Times Books USA
Gemma is a living example as how suffering can be used creatively to bring comfort to help others. She is to be congratulated on bring understanding of this little - known condition. Lymphoedema, to a wider public
Terry Waite CBE
Current Events
June 2008 Claridges. Charity auction of photographs from the 'Mayfair' publication. Auctioneers: Michael Portillo. Carol Thatcher.
May 15 2011 The Prime Minister and Samantha Cameron hosted a reception at No 10 Downing St. for Gemma to launch "Go With The Flow". (with sales from the book directed to Maggie's Care Homes.)
2015 BBC2 TV Documentary "Mayfair" This is repeated during the years up-to present (2020) on 'London Live '
2018 Supported by Dame Judi Dench, Gemma launched a 'Sock Charity Campaign' for Lymphoedema . She was featured on BBC TV News and several radio interviews. She photographed people wearing odd socks from all walks of life , including dogs and cows - raising awareness for the charity .
2018 At the Rudolph Steiner Hall, London. Gemma staged a concert with renown American Pianist Jeffrey Siegal. That evening she raised awareness for Lymphoedema and all proceeds went to Lymphoedema Support Network . Her speakers included, Terry Waite, Simon Callow and Alex Polizzi. Gemma invited Lymphoedema sufferers to act as stewards. Professor Peter Mortimer spoke about the need for awareness for this virtually unknown disease.
2019. Supported by Dame Judi Dench, Gemma commissioned a top British Artist, Rob Carter, to design a Seasonal Greetings card ,to be sold from St George's Hospital Lymphoedema Research Charity; stores ; street markets ; fairs and Fortnum and Mason , Piccadilly. Fortnum and Mason supported and hosted an event drinks party, to promote the card and the cause. Guest of honour, Dame Judi Dench.
2019. 'The Big Issue' took Gemma's cards in their London edition which was not only promoting lymphoedema awareness but supporting the homeless.
2019 Gemma commissioned playwright Brian Daniels to write a play from her book "Let's Talk Lymphoedema". This was due to be performed this year, but due to 'Covid 19 'the opening has been postponed to 2021.
2020. During 'Covid 19' Gemma was isolated in Chipping Norton, Oxfordshire. During this time she decided to publish 2 books, to raise awareness and funds for Lymphoedema Research . 'Aqua' and 'Blissful Isolation'. During this time she was interviewed on radio /zoom/ and a included in a TV documentary for BBC Chanel 4. She received a letter from Prime Minister Boris Johnston, commending her on her work "In the face of overwhelming adversity."
Exhibitions
In September 2001 Gemma put on a photographic exhibition and sale, including all famous UK photographers, at The Royal Academy London. In aid of supporting the disaster from terrorist attacks on the World Trade Centre's Twin Towers. Her Guest of Honour was US Mayor, Rudolph Giuliani. Large sums of money raised.
Over 60 photographic exhibitions; UK and worldwide.
25 years Retrospective at The National Portrait Gallery.
Casson Gallery; Café Royal; Grosvenor House; London Airport Virgin Lounge; Scotts Mayfair; Osborne Gallery; Claridges Hotel, London; Mayfair Library; Sotheby's; The Royal National Theatre; House of Lords; House of Commons; Serpentine Gallery; The Royal Festival Hall; The Barbican; Leeds City Art Gallery; Tel-Aviv University; University of Jerusalem; (others).
Gemma Levine's Henry Moore archive is housed and on permanent exhibition at The Tate Gallery – Tate Britain, London. Gemma lectures at Tate Britain on Henry Moore.
2018/2019 Gemma Levine's black and white, iconic photographs of Princess Diana appear in Kensington Palace at a public exhibition "Diana: Her Fashion Story".
Appointments
1978.FRSA Fellow of the Royal Society of Arts 2017; Honorary member , Lymphoedema Support Network.
2019. Trustee of the charity commission of Lymphoedema Research Fund.
2020. Honorary member of Lymphatic Education & Research Network USA